PIVOT East an innovative startups competition geared towards nurturing the growing ICT talent in East Africa unveiled the winners of the 2014 competition. The unveiling was during a cocktail award ceremony at the Panari Hotel on 25th June.
The competition which kicked off early this year was comprised of a series of activities that culminate to the finalists conference on 24th – 25th June.
The 25 finalists were announced late May and went through a series of seminars, coaching and mentorship sessions to refine their business models and investor pitches.
And the PIVOT East 2014 winners are:
Mobile Society Category
SokoText (Kenya): SokoText uses SMS based pre-ordering service to make it easier for small fruit and vegetable sellers in slums to get their daily stock. SokoText is a social enterprise based in Mathare slum in Nairobi.
Mobile Entertainment category
UbongoKids (Tanzania): Ubongo Kids is a multiplatform, interactive edu-cartoon with SMS interaction broadcasting on TV to kids in Tanzania & online for kids around the world.
Mobile Enterprise Category
A SiM Mobile (Kenya): ASim Mobile is a supply chain mobile solution integrated seamlessly with most popular accounting, ERP apps in the world
Mobile Finance Category
ChamaSoft (Kenya): A group management platform which manages administration of chamas, allowing them to concentrate on investment rather than administration.
Mobile Utilities Category
Sendy (Kenya): A platform for on-demand errands. With the tap of a button, they instantly connect senders and riders and enable payments via mobile phones The founders award went to Online Hisab a cloud-based accounting package for Ethiopian SMEs, who are looking for an affordable and easy to use accounting solution.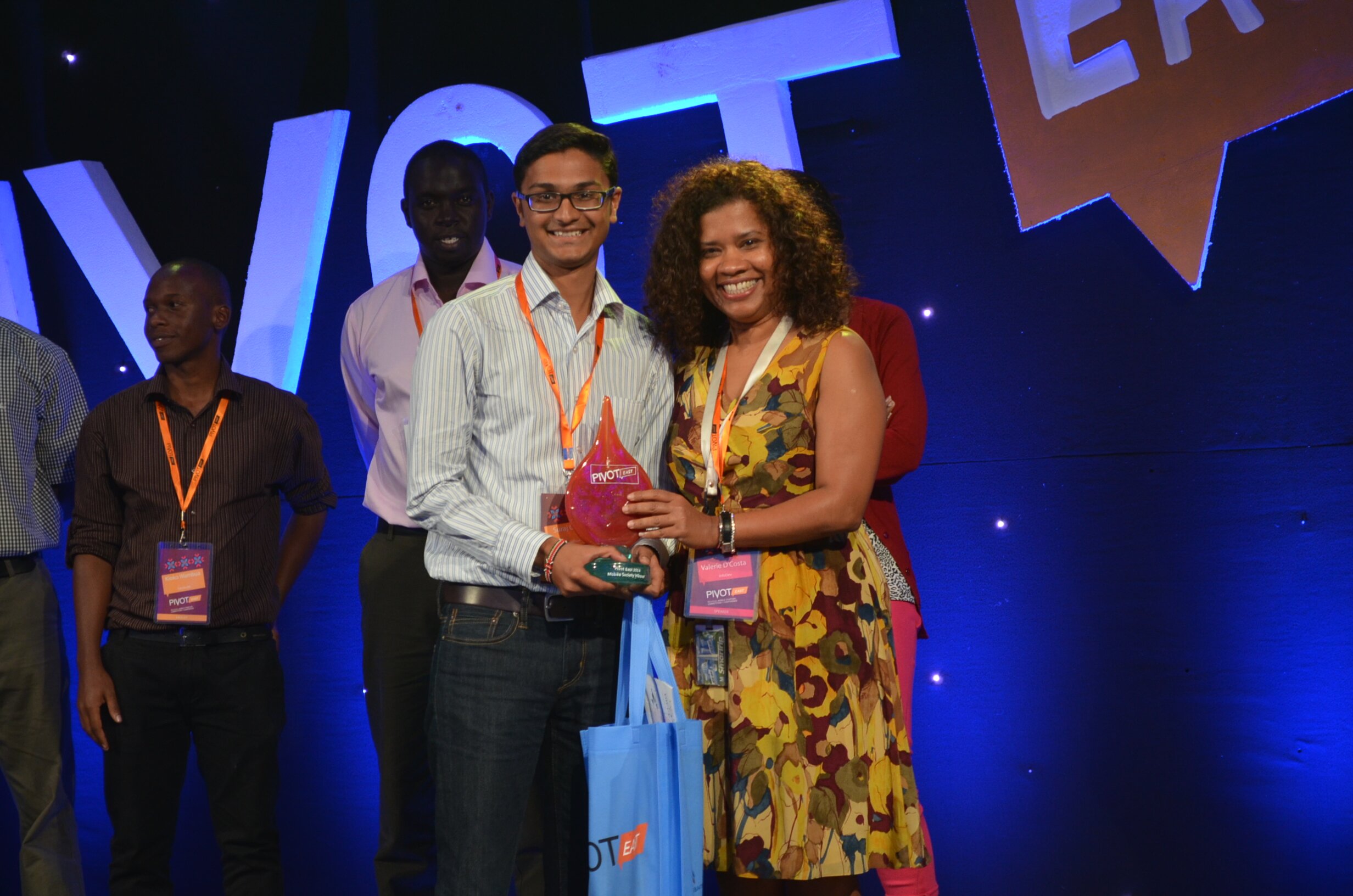 Suraj Gudka, winner in the Society Category with Valerie D'Costa from infoDev during PIVOT East 2014 at Panari Hotel
1st Runners' Up
Beyonic (Uganda): Beyonic's mission is to eliminate cash by creating the best solutions that enable business to make payments using mobile money.
Online Hisab (Ethiopia): is a cloud-based accounting package for Ethiopian SMEs, who are looking for an affordable and easy to use accounting solution.
MaraMoja (Kenya): Maramoja is Kenyan social enterprise dedicated to providing easy access to safe, reliable transport services through your mobile device.
TotoHealth (Kenya): TotoHealth enables hospitals and organizations to communicate and provide targeted information on antenatal & postnatal care using low-cost phones.
Safari Tales (Kenya): Safari Tales is an edutainment android mobile application for children to access Digital African Narratives & learn African Languages.
Pivot East 2013
Pivot East 2013 competition took place in Kampala on 25th and 26th June. This is East Africa's premier mobile startups pitching competition and conference held annually since 2011.
It is an m:lab East Africa Initiative to amplify and consolidate the gains of East Africa's Mobile developer and entrepreneurship ecosystem. The winners for this startup competition included Kytabu (http://www.kytabu.org) in Mobile Society category, http://SleepOut.com (http://www.sleepout.com) in Mobile Enterprise category,Kola Studios in Mobile Entertainment category,GO Finance Company Ltd (http://www.gofinanceco.com) in Mobile Finance category and Ma3Route (http://www.ma3route.com) in Mobile Utility category.
Ivan Lumula Of Microsoft awarding Mikul Shah and Johann Jenson of Sleepout – Winners in Mobile Enterprise Category
Agatha Gikunda of Intel with Laban Okune and Mark Ngetich of Ma3Route – Winners in Mobile Utility Category
>>>> >>>>